On Course to NCL?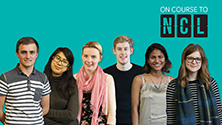 On Course to NCL offers everything you need to know as you plan your course to Newcastle University.

Watch live webchats, read top tips and find out what it's really like to study at Newcastle from our student bloggers.

Visit On Course to NCL.
Newcastle University's events programmes are available:

Many events are free and open to all.
Latest News
Capturing our coast
Newcastle University has received initial support from the Heritage Lottery Fund for a £1.7m project to help protect our coastline for future generations.
Genetic link to kidney stones identified
A new breakthrough could help kidney stone sufferers get an exact diagnosis and specific treatment after genetic links to the condition were identified.